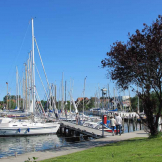 Find your destination and travel to the stars.
Whatever you expect to find at the waterside during your recreational time off - be sure to reach it by following the BLUE STARS. Enjoy reliable standards of comfort and relaxation as well as easily available goods and necessary technical support. Search for your dream harbours that offer you
exactly what you desire for your stay and discover the certified quality of the
periodically reviewed BLUE STAR MARINAS.