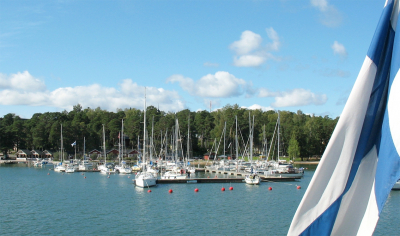 Marina Nagu Gästhamn has become the first Marina in Finland to receive the four star classification in the International Marine Certification Institute IMCI Blue Star Marina scheme.
The Marina Nagu Hamn in Finland is situated in the South West Archipelago in the middle of an active, traditional archipelago and seafaring area.
Nagu Hamn offers more than 120 safe berthing places with buoys in the Marina's own mooring.  For bigger vessels there is the possibility to do alongside berthing. In addition, during the high season, the Marina Captain is able to show berthing at other moorings as well.
With an IMCI Blue Star rating certification, items including: external presentation, sanitary installation and hygiene, service facilities, food and chandlery supplies, leisure facilities, environmental protection and waste management practices, security and safety mean the highest quality standards for the Nagu Hamn marina. Boaters can also make use of cleaning and minor maintenance services while staying in the harbour.
 
Besides high security standards, technical support and friendly customer service, Nagu Hamn offers various amenities and interesting seasonal events for their marine visitors.
Furthermore, the high and modern standards include a free Sauna, WLAN, shops, restaurants and cafés in the harbour. In addition, seasonal events like barbecues, leisure and sporting programs, children's club and bicycle rentals are entertainment options for the marine tourists and their families.
Another major commitment at Nagu Hamn concerns environment protection and disposal. Household and recyclable waste can be disposed of in the marina - a pump-out connector for a septic tank is also available.
 
The committed Nagu Hamn management team keeps an eye toward making sure that all marine tourists' needs are met.
Therefore, IMCI is proud to award the Blue Star Marina certification (including a valuable outdoor certification plaque and a Blue Star Marina Flag) to the dedicated Nagu Hamn team.