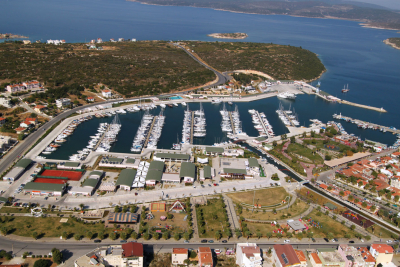 Teos Marina is situated in the wonderful natural bay of Siğacik and has, since ancient times, a long tradition of hosting seafarers. With this we are proud to announce that TEOS Marina has achieved a 5 Blue Star rating.
Opened June 2010, Teos Marina in Siğacik, İzmir, Turkey, gained the Blue Star Marina certification with 5 stars. This reflects their top quality being offered.
Teos Marina has a capacity of 480 boats and offers complete service. Besides their normal Marina services, Teos Marina comes with a heli port, mooring pilot boats, diving service, 75 t travel lift, service for electronics, engines, hull and a paintshop.

One can appreciate the health centre, the yacht club, swimming pool, fitness and sauna, restaurant and all the other amenities in the marina.

Quality under the BLUE STAR MARINA system points to the harbour's presentation, safety, sanitary, service, catering and leisure facilities as well as management and environmental protection. All these services were realized with ease and Teos Marina has received the official certificate, plate and flag from IMCI.
The certification includes the compliance with ICOMIA's "Clean Marina programme" for which the IMCI Blue Star Marina programme is endorsed.

Teos, which is located at the seaside at 1 km south of Sığacık Village, 5 km from the Seferihisar District of İzmir, was founded as an Ionian colony in approximately 1000 B.C. Its founder is known as Athames, the son of Dionysus.
The marina is less than one hour from the International Airport in Izmir with convenient and reasonable transfers.
The towns historical and natural setting increases the value of TEOS Marina. Additionally you can see the Ottoman Castle from to the 16th century in Sığacık through which you will pass on your way to Teos Marina.
IMCI is proud to welcome Teos Marina in Turkey to the unique and highly qualified group of BLUE STAR MARINAS.