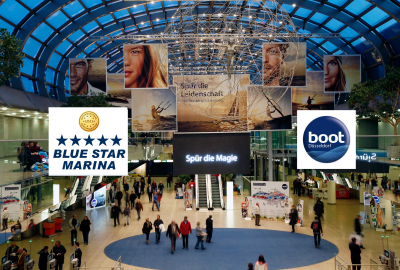 Due to increasing demand and high interest among professional visitors and general consumers the Blue Star Marina Certification program had an exclusive stand, B 34 in Hall 14, at the boat fair "boot 2014" in Dusseldorf from 18th to 26th January 2014.
The Blue Star Marina Certification presents a transparent system to indicate the quality level of marinas through 3rd party assessment. The Marina Certification program uses 1 to 5 stars to indicate the quality of certified marinas.
Main certification criteria are:
• external presentation
• security standards
• sanitary installation and hygiene
• service
• food supply and leisure amenities
• management
• environment protection and disposal
• winter storage if applicable
A marina with 5 stars of the Blue Star Marina Certification is the highest quality award for excellent service and quality of service.

This system is offering water sports tourists a transparent assessment for marinas of all sizes, both in coastal and inland areas comparable with the star prize of hotels, campsites and restaurants.
Marina operators can announce the successful certification of its Marina by displaying an exquisite plate in the port. In addition, they are entitled to use the Blue Star Marina logo and can display it on other promotional materials. Furthermore, the certification will be shown on IMCI marketing platforms including the internet and other media.
The validity of the classification is for three years. After this period, the marina is audited again by an independent inspector to obtain the Blue Star Marina Certification for another three years.
The program was established through IMCI in 2010 and is designed for all marinas regardless of size and or location -coastal and inland.
For more information please study this website www.bluestarmarina.org, additional info at www.imci.org