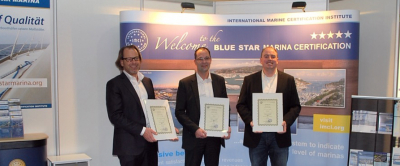 boot 2015: Blue Star Marinas successfully re-certified and awarded 
The owners of three well-known marinas at the Baltic Sea received the awards of re- as well as new certification. From now on they can fly the BLUE STAR MARINA flags:  Andreas Hundsdörfer of YachtWelt Weiße Wiek Boltenhagen, Oliver Seiter of ancora Marina in Neustadt and Falk Morgenstern, Baltic Sea Resort Marina Kröslin. 
Signal for a high quality level 
Blue Star Marina are quality-proven marinas which went through a thorough check processed by the International Marine Certification Institute. Every 3 years these marinas are re-visited and so can offer an assured high level of quality.
Also successfully re-certified during 2014:
Yachthafen Hohe Düne - Rostock
Yachtwerft Klemens - Großenbrode
Nagu Hamn - Finnish archipelago
Puerto Calero - Lanzarote as one of the Calero Marinas of the Canary Islands
Marina Lagos - South coast of Portugal. 
New BLUE STAR MARINAS in 2014:
Moreover Marina Valencia in Spain and Marina Wiek at Rügen in Germany have been welcomed within the range of BLUE STAR MARINAS.
Continuous positive trend: marina certification 
Other marinas in Sweden, Germany, Norway, France and the Netherlands already applied for a BLUE STAR MARINA certification. Watersport tourists appreciate the transparent quality award that reliably displays the large service offers of marinas. It is the start of an all-round carefree stay at the chosen watersport harbours. 
A transparent system displayed 
The "Blue Star Marina Certification" as a transparent Ssystem marks the quality level of marinas rated by an independent 3rd party. 1 up to 5 stars are used to display the marina's quality.
Certification criteria are external presentation safety, sanitary installation & hygiene, service offers, food supply & leisure, management, environment protection & disposal.The program processed since 2010 is designed for marinas worldwide, independent from size or position - inland or coastal.