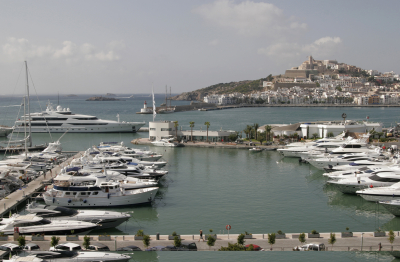 Marina Ibiza joined the group of BLUE STAR MARINAS
The International Marine Certification Institute is proud to announce that Marina Ibiza has awarded the highest score possible within the Blue Star certification programme qualifying as a world class marina!
To become certified as a 5 Star Marina compliant Marina Ibiza underwent through an evaluation process that included an initial assessment, pre-audit and on site inspection to guarantee full criteria compliance.
The Blue Star Marina certification standards criteria focus on assuring delivery of improved marina security and safety performance, environmental and regulatory compliance as well as customer service, hospitality and marina management above expectations. The catalogue of criteria is reviewed yearly so the standards are up to date and implemented best practices are continuously improved to match the client expectations.
Marina Ibiza offers best quality berthing for yachts of up to 60mts and improves the experience, of both boaters and visitors, by serving top of the range leisure and hospitality services.
Marina Ibiza manager, Mr. Daniel Marí says: "We are very proud to have received this award, since it represents the fruit of the efforts made by our entire team to improve every day and to offer our clients the best Marina they have ever known. Our great objective from day one has been excellence in every way: in facilities, services and personal attention to each client. Thanks to this effort, we achieved that Marina Ibiza is more than a marina, its a style of life. We are looking for the quality of life for our clients and every detail of our facilities is aimed to achieve this. Security and functionality are aspects which we care especially and we can say that the offer of leisure, catering and entertainment that Marina Ibiza offers is unique in the world. Therefore, we are happy that this effort has been recognized with the 5 Blue Star Certification and will be an incentive to continue to improve day by day."
Mr. Patrick Reynes from IPM Group says: "The policy of our group of companies has always been to reach the maximum levels of quality and proof of this is that all of our facilities are accredited in safety, quality and environmental care, such important aspects today in order to meet the needs of the most demanding customers. Nautical tourism is acquiring an important dimension and determines the quality of the tourism in the place where it develops. So then, for us a great social responsibility to build and manage facilities that provide an added value and improve the economic development of the place where you are. To do this, we have a professional and experienced team that works every day to make our facilities a reference in the sector at an international level. It is this team that today is proud of this recognition for its work to achieve the 5 Star Marina Certification."
The International Marine Certification Institute congratulate Marina Ibiza, and IPM Group, for this achievement which no doubt it is a reflection of its loyalty towards their clients, outstanding facilities and orientation to quality customer services and surely allows Marina Ibiza to continue leading the market with the reassurance that the highest standards of quality are delivered through the complete range of services and activities performed and offered by the marina operator.